Christmas in Jordan
Christmas is a time of joy, warmth, and celebration that transcends borders and unites people from all walks of life. While Jordan may not be the first destination that comes to mind for a Christmas getaway, it offers a unique and enchanting experience for travellers during this festive season. In this blog, we will explore the wonders of Christmas in Jordan, from the beautiful traditions to the captivating celebrations.
Jordan Weather in December
Before we delve into the holiday spirit, let's set the stage with a glimpse of Jordan's December weather. During this time of year, Jordan dons its winter coat. Average high temperatures range from 50-60°F (10-15°C), while lows dip to 40-45°F (4-7°C). The skies are mostly clear, but December is one of the wettest months in Jordan, with an average of about 1.5" (4cm) of rainfall. And if you're lucky, you might even witness the magic of snow in certain regions, like the desert of Wadi Rum.
Christmas in Jordan
Yes, you read that right – Christmas is celebrated in Jordan! Despite being a predominantly Muslim country, a Christian minority of 8% of the population ensures that Christmas holds a special place in Jordan's heart.
How Jordan Celebrates Christmas
The spirit of Christmas in Jordan is heartwarming and infectious. Here are some of the ways people celebrate this festive season:
Making a Christmas Cake: The preparations for a Jordanian Christmas cake begin in early December. Dried fruits are lovingly soaked in cognac, brandy, and rum for that perfect moistness. On Christmas Eve, Jordanians bring out these fruits and, with great care, craft their Christmas cake using flour, eggs, and baking powder. The cake is a centrepiece for the holiday table, radiating its rich aroma and flavours.
Baking Cookies: December in Jordan brings the chill of winter, making baking an inviting tradition. Days before Christmas, Jordanian families come together to bake traditional cookies like ka'ak and ma'amoul. These date-filled cookies, featuring a buttery semolina dough and sweet date or nut fillings, are a true delight.
Christmas Trees and Decorations: Just like in the Western world, Jordanians take pleasure in decorating Christmas trees and their homes with ornaments. However, the focus here is primarily on the interior rather than extravagant exterior displays.
Christmas Mass: For those who hold Christmas close to their hearts, attending Christmas Mass is a significant tradition. Jordan is predominantly home to the Eastern Orthodox Church, with a smattering of Roman Catholic Churches for those seeking a diverse experience.
Jordan's Wider Christmas Celebrations
But Christmas in Jordan extends beyond family celebrations and religious observance. The country comes alive with various public celebrations:
Christmas Tree Lighting Ceremony at The Boulevard: The festive season in Jordan commences with the grand Christmas Tree Lighting Ceremony at The Boulevard in Abdali. The towering tree, adorned with colourful lights and ornaments, becomes a beacon of joy. Carolers, Frosty the Snowman, and Santa Claus grace the ceremony, offering a joyful spectacle and countless photo opportunities.
Christmas Bazaars: Throughout the country, hotels, shopping malls, and churches host Christmas bazaars. These bustling markets showcase seasonal products, unique crafts, and artistic gifts. Live entertainment and activities for children add to the merriment.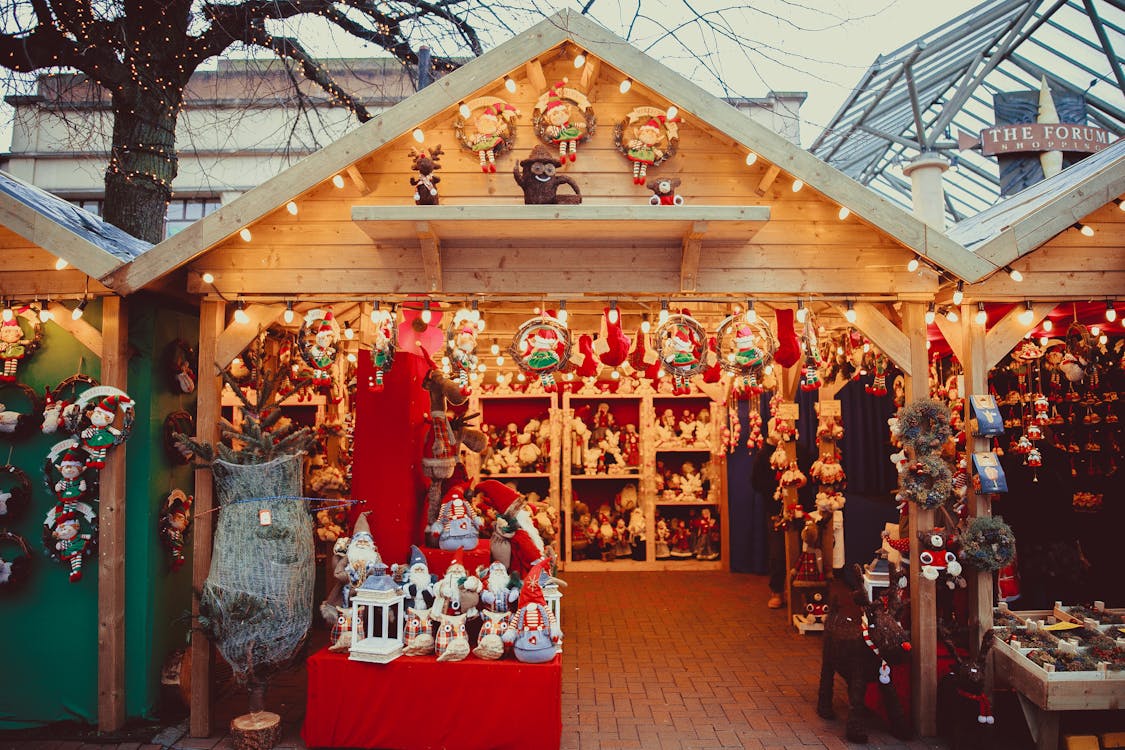 The Christmas Village at Kan Zaman: For a truly magical experience, head to the Christmas Village at Kan Zaman. This 19th-century agricultural settlement transforms into a whimsical Christmas wonderland every December. Wooden stalls brim with unique treasures and Jordanian delicacies. Local musicians set the tone, and Santa Claus himself makes appearances for memorable photos.
Christmas Days at the Children's Museum Jordan: Families visiting Jordan during Christmas can make unforgettable memories at the Children's Museum Jordan. The festive program includes decorating a giant Christmas tree, playing in the snow, lighting the tree, arts and crafts workshops, and the excitement of Santa's parade. This joyful celebration takes place from December 22 to December 25, from 10:00 AM to 6:00 PM, with an admission fee of 3 JD per person (free for Museum members).
Visitors Embracing the Joy of Christmas in Jordan: As a traveller, you're not a mere spectator; you can actively participate in the magic of Christmas in Jordan. Whether you're Christian or not, you can immerse yourself in the festivities. Join in the local celebrations, attend Christmas Mass, explore the enchanting bazaars, and inquire about special Christmas Eve dinners hosted by hotels and restaurants.
Should You Visit Jordan for Christmas?
The resounding answer is yes. For those who do not celebrate Christmas, Jordan offers a unique, tranquil experience. Christmas is observed with respect, but it doesn't disrupt daily life in the way it might in some Western countries. Tours and activities proceed as usual, making your visit smooth and enjoyable.
And for Christmas celebrants, Jordan offers a beautiful blend of traditions and a chance to visit Christian holy sites in a land rich with history. It's a different way to experience the holiday, one that combines the solemnity of faith with the joy of the season.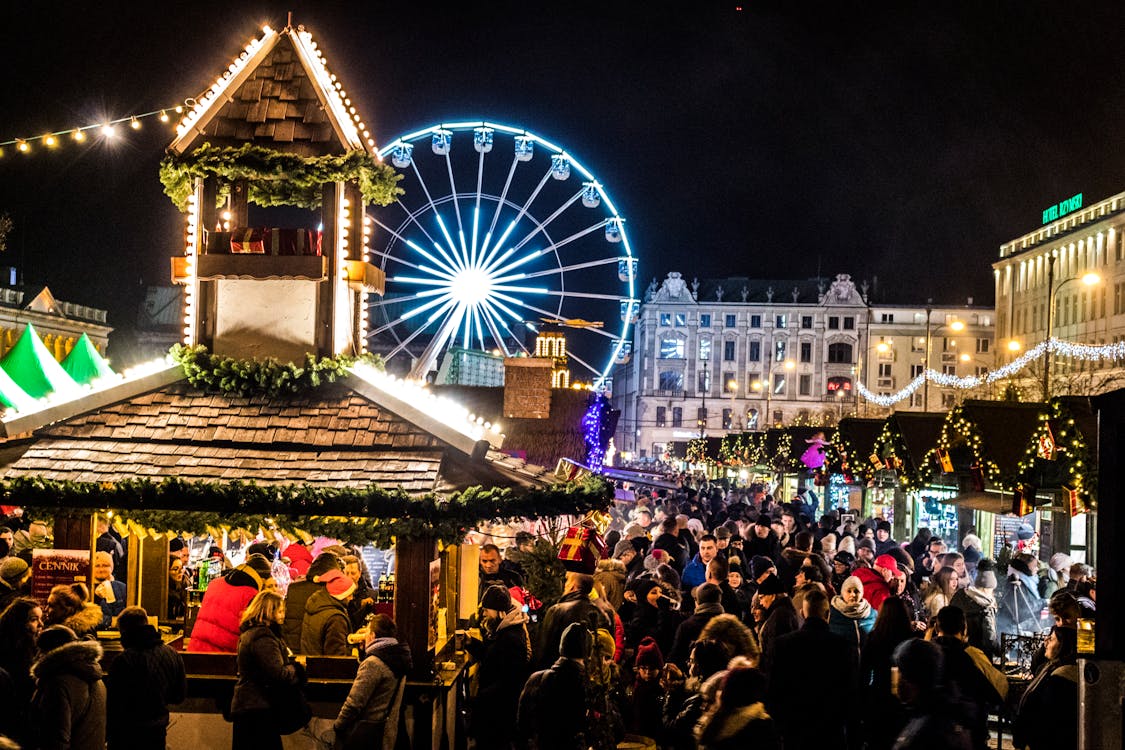 Exploring Christmas in Jordan
Christmas in Jordan is not just about the festivities; and it's about the unique experiences you can have in this enchanting land during this special time of year.
Exploring Christian Holy Sites: Jordan is home to a wealth of Christian holy sites. Don't miss the opportunity to visit these sites during your Christmas journey. The baptism Site, Bethany Beyond the Jordan, is a significant site for Christian pilgrims. It's believed to be the place where Jesus was baptized by John the Baptist. The ancient city of Madaba boasts the famous Madaba Map, a mosaic map of Jerusalem and other holy places.
Indulge in Jordan's Culinary Delights: Christmas is not just about the cake and cookies; Jordan offers a unique culinary experience. Feast on traditional dishes like Mansaf, a mouthwatering lamb dish, or try delicious street food like falafel and shawarma from local vendors.
Admire the Spectacular Landscapes
Christmas in Jordan is also an opportunity to explore the country's breathtaking landscapes. The Wadi Rum desert, Petra, the Dead Sea, and the Red Sea are just a few of the wonders that await you. Enjoy hikes, camel rides, and perhaps even a relaxing float in the hypersaline waters of the Dead Sea.
Immerse in Local Culture
Beyond Christmas celebrations, engage with local culture. Visit local markets, chat with friendly Jordanians, and explore the unique blend of history, culture, and traditions.
Souvenirs and Gifts
Christmas is the season of giving. While in Jordan, you can pick up unique souvenirs and gifts for your loved ones. Jordanian handicrafts, handwoven rugs, and exquisite jewellery are just a few of the options available.
In Jordan, Christmas becomes a bridge that connects diverse communities, transcending religious differences. It's a time when the beauty of the holiday spirit unites all who embrace it, making Christmas in Jordan an unforgettable experience. Ready to embrace the Christmas in Jordan?